Our fully loaded container with improved comfort and safety.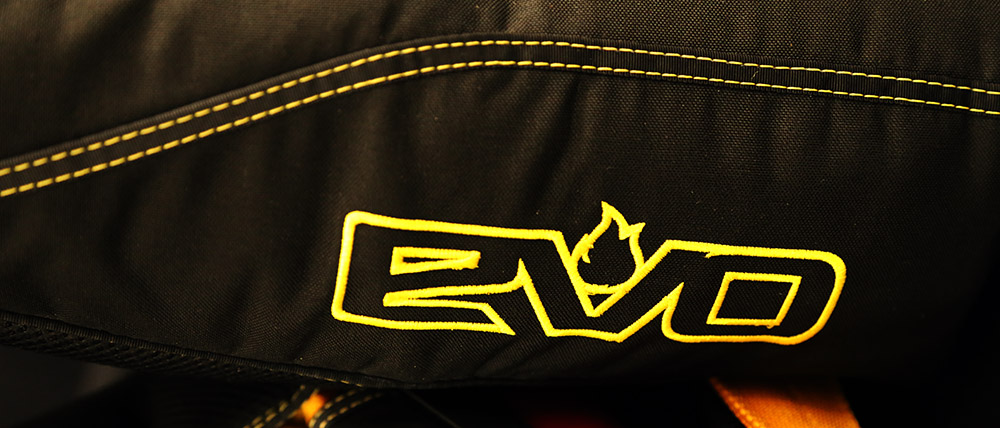 $3750 direct-to-consumer price all options included*. ($3300 MIL/LEO sale price)
* Contact us to see if your country qualifies
Ergonomic back padding, padded offset laterals and specially designed leg strap webbing makes this container fit your body like a glove. The new design was developed by our riggers and athletes in the sky and the wind tunnel. This container is perfect for traditional belly flying but foremost for new dynamic three dimensional disciplines
The EVO is arguably the most comfortable container on the market. Safety wise, we added deflector flaps on the bottom of the reserve tray and rounded all stiffeners to avoid any chance of line entanglement with main flaps.
The EVO comes in cordura 500D or 1000D or in any special fabric like leather or Alcantara. We have a wide variety of camo patterns as well. All in all a top quality fully loaded rig. Or as we hear our customers say: Simply awesome!
---
Standard features
Options and extra features
Standard features
Stainless steel hardware
Magnetic Riser Covers
Ergonomic back/laterals padding
Articulated hip/chest in Stainless Steel or Black
Retention buckles on legstraps
Type 17 risers with dive loops in 20, 22 or 24 inch
Velcro-less toggles
Pillow and D handles for cutaway and reserve
Tear off safety flap
Freefly bungee
Deluxe foam back
Dakine® Hookknife
Multicam® Fabric, Webbing and Binding Tape
and much more
---
Free options
VFS laterals
Aluminum hook knife
---
Options
Special embroideries
International Camo patterns
RSL
Xtra-long cheststrap
Wingsuit bridle
Black hardware
---